E
nterprise Tape Emulator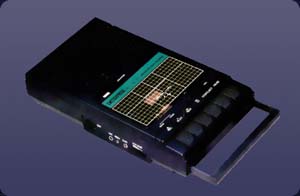 The software "reincarnation" of the ENTERPRISE Slim Portable Casette Recorder (above)
...and MORE!!
| | | |
| --- | --- | --- |
| | Description | |
EPTE is the simpliest way to transfer files between an ENTERPRISE 128k Home Computer and a PC. It's a virtual casette recorder, but it can be used as audio casette file manager, and Tape File - Emu image converter as well.
| | | |
| --- | --- | --- |
| | Features | |
By using EPTE you can:
load EP programs without any disk or tape drives
make loadings absolutely safe, avoid error messages like
"*** Casette CRC error.", and
"*** Load error. Re-starting system."
load programs 30% faster, than from real tape
copy EP files to hard disk through tape connection, and convert whole programs from tape to Tape Files
convert Tape Files to Emu images, so that you can load them into an EP emulator (like Kev Thacker's)
convert image files to Tape Files, so any program you've downloaded for an Emu can be loaded into the EP)
save and load any kind of files to/from audio casettes
| | | |
| --- | --- | --- |
| | Sample tape signal | |
This is a short sample of the tape signal of the Enterprise 128. You can test the EP <-> PC connection using this wave file by loading it into the Word Processor. Its title is: "WELCOME_TO_EPTE". If you notice that the ActiveMovie control plays the sound uncontinuously, download welcome.wav, and play it by an another program, like Windows Media Player.

Modified: 2000.01.20. by Stocker Dániel. Comments'n'bugs should be reported at stocker@epte.8m.com
Recommended browsers: IExplorer4.0 and Netscape4.5 with 800*600*24bit (fullscreen) resolution